Are you self-conscious about crooked teeth but unwilling to deal with the hassle of bulky, metal braces?
At Bay View Dental in Clairemont, CA, we offer Invisalign®, a revolutionary orthodontic system that can transform your smile.
Find out how Bay View Dental has helped hundreds of patients achieve a more attractive smile with this clear aligner system...
What Makes Invisalign So Popular?
The Benefits Are Great
Discreet
While braces are an excellent option for straightening teeth, some patients prefer a more discreet option. Invisalign aligners are virtually invisible so you don't have to feel self-conscious while wearing them.
Easily Removable
Ready to eat or brush your teeth? The clear aligners can be removed in seconds, giving you freedom and convenience that just can't be achieved with braces.
Comfortable
Traditional metal braces use brackets and wires that can irritate the inside of your mouth. Clear aligners are smooth to the touch, making them a more comfortable option.
Easy to Maintain
Taking care of your oral health is easy with Invisalign. Patients can brush and floss as they would normally. There is no need to loop floss in between brackets or use any other special cleaning tools with removable aligners.
No Dietary Restrictions
Because clear aligners are removable, there's no need to worry about orthodontic appliances making it more difficult to eat certain foods. Patients can remove their aligners and enjoy all their favorite foods with no restrictions.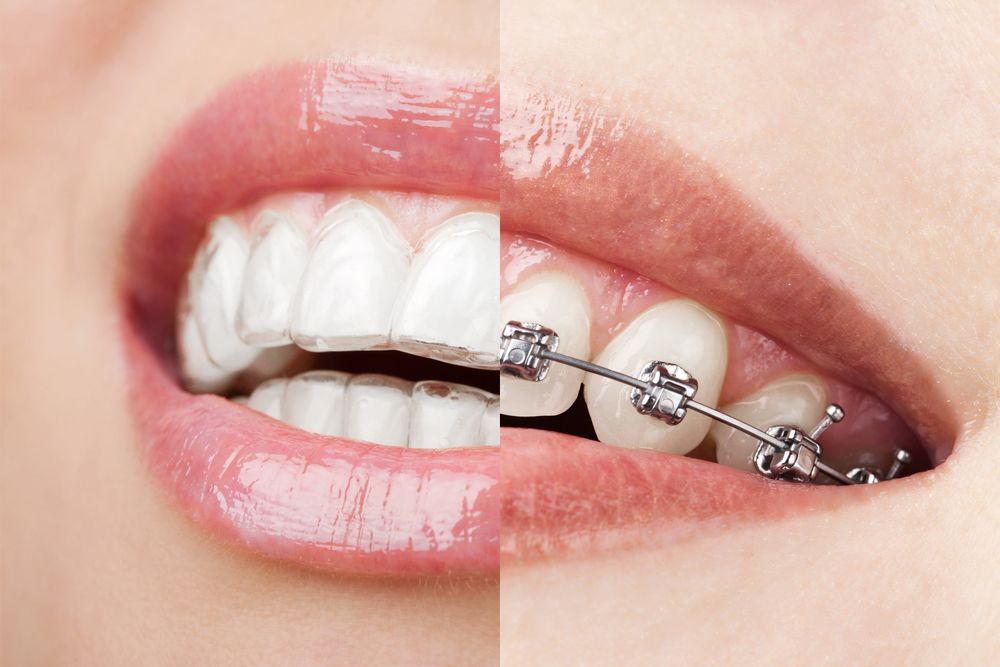 A Beautiful Smile Is One Step Away
Request Your Consultation Today
Are you ready to get the straighter teeth and more attractive smile you've always wanted? Bay View Dental has been providing Invisalign, a nearly invisible form of orthodontic treatment, for more than 12 years and we'd love to help you feel more confident in your everyday life. To get started, fill out our online form and a member of our team will contact you to schedule your consultation. You can also call our Clairemont office in San Diego, CA, at:
"You Couldn't Pay Me to Go to a Different Dentist!"
I had crooked teeth which affected my self confidence. I decided to try Invisalign braces. The best decision I could have made. My teeth are now aligned correctly, which has made brushing & flossing, much easier. And the fact that my teeth are now straight, plaque build-up has been drastically reduced, improving my overall dental health to a level I've never experienced before. I now have the confidence to smile in public!!
View On Google
I've been going to Dr. Emerson for years and the whole office is the best I've Ever been to! Everyone is always so happy, kind and professional and Dr. Emerson is amazing. I had Invisalign about 5 years ago and am more than happy with the results, and I continue to go twice a year for cleanings. You couldn't pay me to go to a different dentist, this office is truly the best!!
View On Google
Are You a Good Candidate?
Mild to Moderate Cases
Invisalign is best suited to correct mild to moderate cases of misalignment. For patients with more significant issues, we may recommend an alternative treatment to help you reach your goals.
Good Oral Health
Patients must be in good oral health before being approved for treatment. Any existing tooth decay or gum disease will need to be addressed before you can undergo orthodontic treatment.
Dedicated to the Process
Invisalign is a process that requires time and commitment. Patients must be diligent and wear their aligners for 22 hours each day in order to achieve the maximum benefits.
No Teeth Grinding
Patients who regularly grind or clench their teeth risk wearing down their aligners over time. If necessary, our dentist may recommend braces instead.
Invisalign for Teenagers

A More Discreet Option

If you're interested in orthodontic treatment for your teenager, Invisalign is an excellent option. Adolescence is a pivotal time for a teenager, and the last thing they want is to be wearing braces at school or around their friends.
Compliance Indicators

If you're worried about your child not keeping up with treatment, Invisalign makes special aligner trays with compliance indicators that inform parents and dentists if they aren't being worn for the minimum amount of time each day.
What Is the Cost of Invisalign?
Financing Options Available
The price of Invisalign ranges from $3,500 to $5,000
depending on the extent of treatment and type of insurance coverage.
Dr. Megan Shelton
and
Dr. Jennifer Milcovich
can provide a more concrete estimate during your initial consultation with us. We understand that the price of dental care can be intimidating, which is why we are proud to
offer flexible payment options to our patients
. Our staff is happy to discuss our financing plans with you during your visit to our Clairemont office, serving Pacific Beach and greater San Diego.
"Everyone Is So Courteous and Thoughtful"
Dr. Emerson and his staff are amazing! Our family has been going to him for decades and highly recommend Bay View Dental to everyone! We love the professional care and meticulous attention to every detail in our dental service, with a smile:)
View On Google
Such a personalized experience - greeted by name, everyone is so courteous and thoughtful, love the hygienists.
View On Google
How Does Invisalign Work?

Traditional metal braces use brackets and wires to pull teeth in certain directions. This method can be uncomfortable, especially after the wires are periodically tightened. Invisalign's SmartTrack material covers most of the surface of your teeth, which allows for more controlled and gentle tooth movements. As the teeth are moved into better alignment, your jawbone tissue will adjust and allow for the repositioning of teeth.
Breaking Down the Invisalign Treatment Process
After your teeth have been straightened, you'll have to take some simple steps to maintain your smile. To prevent the teeth from shifting over time, you must wear the last set of aligners or retainers to bed every night. This allows you to enjoy all the benefits of straighter teeth for years to come. As always, make sure to keep up with oral hygiene by brushing and flossing daily, and attend routine dental visits at our practice in Clairemont, proudly serving patients from Pacific Beach and other areas of San Diego.